Scholarships for United Methodist Students at University of Tennessee Southern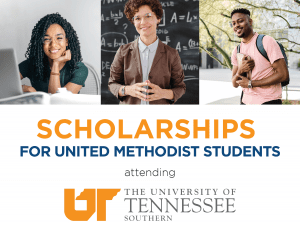 United Methodist students attending or planning to attend the University of Tennessee Southern may qualify for scholarships from the United Methodist Higher Education Foundation (UMHEF) for the 2023-2024 academic year.
These scholarships may provide up to $5,000 per student toward paying tuition, room and board, and other school-related expenses. Applications are open through March 1, 2023. Learn more.
Since 1965, UMHEF has been a leader in providing scholarship support to United Methodist students attending the over 100 United Methodist-related higher education institutions. The Foundation awards an average of $2 million to nearly 1,000 students every year.