Reflection: FREE 2022 Lenten Activity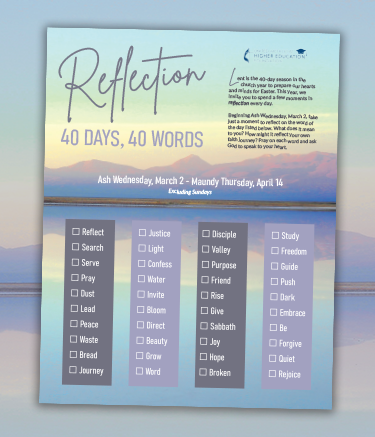 Every year, the United Methodist Higher Education Foundation provides a FREE Lenten activity for anyone interested in focusing on their faith during this season. Lent is the 40 days (excluding Sundays) before Easter that begins with Ash Wednesday - this year, on March 2.
This year, we invite you to spend a few moments in reflection every day. Download the Reflection: 40 Days, 40 Words activity. During each day of Lent, spend a few moments reflecting on the word of the day.
What does the word mean to you? How might it reflect your own faith journey? Pray on each word and ask God to speak to your heart.
Feel free to share with family, friends, or distribute in your church community.