Tips for Raising Church Funds for UM Dollars for Scholars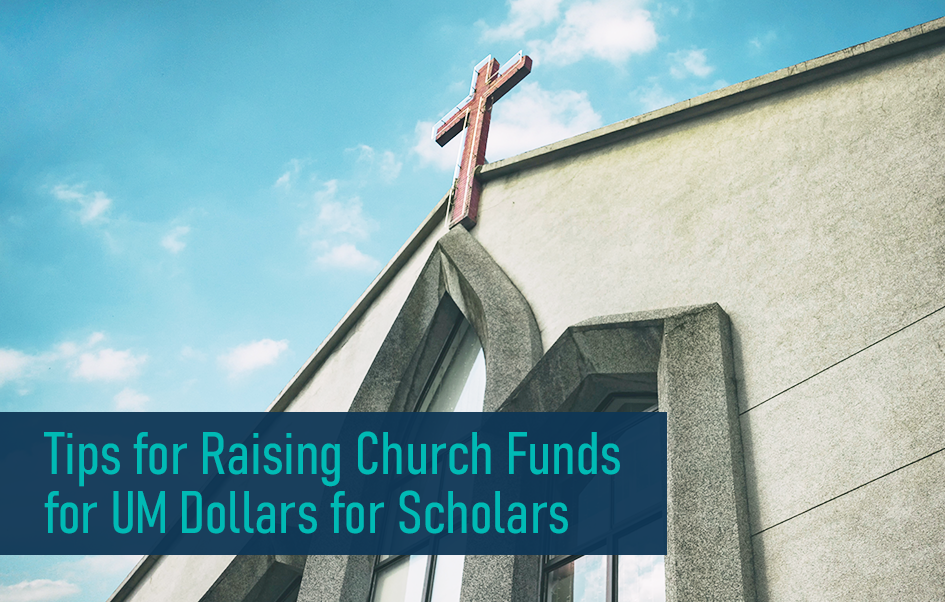 The UMHEF United Methodist Dollars for Scholars (UMDFS) award is a unique scholarship program that kicks off with a $1,000 scholarship from an applicant's United Methodist Church. For some congregations, however, money is not readily available but the desire to support students is. If you are a sponsoring church that is low on funds, check out the following tips for raising these funds.
The UM Dollars for Scholars award is a matching program. UMHEF, participating UM-related schools, and UM Conference Foundations may each match for a total of up to $4,000. Learn more.
WAYS TO RAISE $1,000 CHURCH SCHOLARSHIP
It takes a village. While we prefer the $1,000 to be sent to UMHEF on one church check, more than one United Methodist congregation may contribute. Consider reaching out to other congregations to pool funds. These may include the church the applicant attends while at school, the student's parent's church (if different), etc. If multiple churches will contribute and want to write their own checks, please send all checks together at one time if possible.
Many hands make light work. Similarly, ask groups within your church to sponsor part of the $1,000 total. Your youth or college ministry, a large Sunday School class, outreach groups the student may volunteer with, etc.
Pass the plate. We have heard of congregations incorporating a special offering specifically for the UMDFS program.
Get creative! Want to really drum up excitement for the students in your congregation who you want to support through this program? Host a fundraising event. Ideas include a talent show with "admission," car wash, gift wrapping station at Christmas time, silent auction, or church yard sale.
Get students involved. If you'd like to involve students who plan to apply for the UMDFS program, they may want to reach out to family, neighbors, teachers, and friends and ask them to donate to your church for this designated purpose.
UMHEF is here to help your church be successful in supporting students aiming for higher education. We are happy to provide custom announcement suggestions, worship slides, and/or traditional bulletin inserts for your UMDFS fundraising efforts. Email our Director of Communications/Public Relations, Teresa Tysinger, or call her at 615-649-3975.
Applications are not currently open, but now's the perfect time to make plans for funds to support the students in your church who plan to apply for the UMDFS program. Talk to the youth and college students in your church now and be ahead of the game! Applications typically open January 1 for the following school year. As always, we thank you for the amazing impact you have on countless United Methodist students.