UMHEF Scholar Makes a Difference Despite Pandemic
The students you support through the United Methodist Higher Education Foundation are changing the world! This is just one of their stories, that of a young United Methodist student at West Virginia Wesleyan College. Hannah Povroznik continues to make a difference, even during a pandemic, by living out a vision she had in high school.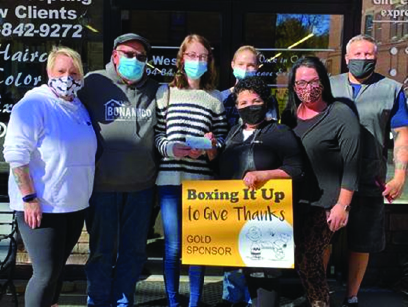 In 2017, Hannah founded a food insecurity charity known as Boxing It Up to Give Thanks. This initiative set out to package boxed Thanksgiving meals for food pantries throughout North Central West Virginia. The vision was to eliminate food insecurity for one day, leaving more time for families to do what families do best – make memories!
Despite the COVID-19 pandemic, Boxing It Up persevered into its fourth year of service while expanding the original vision through a team of leaders from West Virginia Wesleyan College. In 2020, the charity raised $32,000 and fulfilled the need of all food pantries across counties in North Central West Virginia.
With a community voice and years of determination, this initiative has ultimately raised $90,000, distributed 61,000 pounds of food, and provided nearly 18,000 individual Thanksgiving meals in total. Equally important, Hannah's example has instilled leadership into the minds of students and changed the face of food insecurity in West Virginia.
There are countless other stories about UMHEF scholars doing amazing things. When you donate to UMHEF, you help fund not only the education of students like Hannah but also their ideas and dreams that impact communities in enormous ways. Become a part of all the good students are doing by making a one-time or recurring gift to fund UMHEF scholarships. GIVE HERE.
Thank you for your support. We hope Hannah's amazing work inspires you as much as she's inspired us here at UMHEF.