UMHEF Scholar Turned Trustee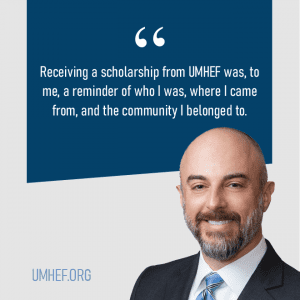 Jadd Masso first received a UMHEF scholarship in 1995 as a student at Southern Methodist University and is now a lawyer living in Dallas, TX. He first joined the UMHEF Board of Trustees in 2010 and has since served in many roles of leadership. Below, Jadd shares some thoughts about making the connection between scholar and servant.
When I received a scholarship from UMHEF to help pay for my undergraduate education at Southern Methodist University, I had no idea of how great a blessing it really was. Of course, the money for tuition as appreciated, but what I didn't realize then was how the scholarship would further strengthen my connection with the church.
I grew up going to Sunday school and was active in my youth group during high school, but (like many college students) was not particularly involved thereafter. Receiving a scholarship from UMHEF was, to me, a reminder of who I was, where I came from, and the community I belonged to.
While at SMU, I received frequent reminders from UMHEF about the church's support for me and for hundreds of other students like me across the country. UMHEF stayed in touch with me after graduation, through law school, and as I began my career. As a young adult, I was eager to become a donor to UMHEF. I wanted to pay back the gift that had been given to me, so that other students like me could have the same opportunities–not just to attend a church-related college or university, but to do so with the love and support of their church community. My UMHEF scholarship inspired me to rekindle my involvement at church as an adult and to take on leadership roles in my local congregation.
I have also been honored to serve on UMHEF's board of trustees since 2010. I support UMHEF now because I know that the scholarships we give are so much more than assistance with tuition. Our scholarships are a way for the church to connect with its youth during a transformational time in their lives and to inspire its future leaders.
Jadd's reflection first appeared in the 2021 UMHEF Annual Review. Read the full report here.