A Dual Focus on People and Community: UMHEF Scholar Fernando Domingos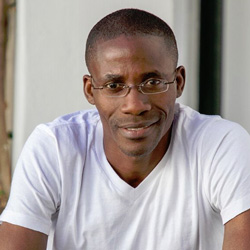 Having grown up in The United Methodist Church, Fernando Domingos sees a parallel between his interest in mission and his choice of psychology as his college major at Africa University: both focus on people and communities. With assistance from the Martha G. Rowlett and Robert J. Arnott Scholarship Endowment, awarded by the United Methodist Higher Education Foundation, Fernando is now working toward his Master of Divinity at Drew University with the aim to give back.
Although mission work is hard, Fernando knows it is God's work, and God will sustain him. He looks forward to hearing the stories of others, becoming an advocate for social justice, and helping to build strong communities.
After graduating from Africa University, Fernando has spent the past two years in Brazil working with Shade and Fresh Water, an after-school program of the Methodist Church of Brazil for at-risk youth ages 6 to 14. Through his education and experience in Brazil, he saw a shortage in pastoral care and counseling services. His sights are set on this area of focus as he pursues his graduate degree at Drew.
Fernando shared that his first priority is to always give back smiles as he comforts those going through life's challenges, and to orient others to have a heart of love and charity. His lifestyle is one set to serve God and to serve others. He prays that after completion of his MDiv, he can "extend the services of the church community in larger ways to help others through a great heart of love to the work of God in this earth."
Learn more about the vision and reach of UMHEF.
Read about the Martha G. Rowlett and Robert J. Arnott Scholarship Endowment.
Support students like Fernando.