New Bishop Bruce and Char Ough Scholarship Endowment
This month, the United Methodist Higher Education Foundation launched the Bishop Bruce and Char Ough Scholarship Endowment funds at two special events honoring the couple and their legacy of ministry and leadership within the United Methodist Church. Biship Bruce R. Ough is the resident bishop for the Dakotas-Minnesota Area of The United Methodist Church. The new scholarship endowment includes two funds, one for students at Dakota Wesleyan University and one for students at Hamiline University, to help those who are discerning a calling to or preparing for a career in ministry.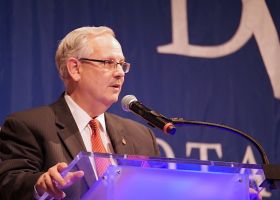 On May 15, United Methodists from North and South Dakota areas gathered to honor Bishop Bruce R. and Char Ough on the campus of Dakota Wesleyan University in Mitchell, South Dakota. This event was co-hosted by the Dakotas United Methodist Foundation,Dakotas Conference, and Dakota Wesleyan University. (Read more about this event.) A second event was held on May 21 on the campus of Hamline University in Saint Paul, Minnesota and co-hosted by the Minnesota United Methodist Foundation, the Minnesota Annual Conference, and Hamline University. (Read moreabout this event.) At both events, distinguished colleagues, UM leaders, and alumni offered gracious words in celebration of the Oughs.
"I am a product of a mentoring culture. I was not born a leader. I was raised to be a leader by others who very intentionally invested in me." Bishop Ough shared these words about raising up the next generation of United Methodist leaders, inviting those at each event to lend their support to the efforts of the new endowment. "This scholarship is not meant to be about me. It is about the next generation that we are to call forth and mentor. I believe that preparing the next generation of spiritual leaders is every leader's responsibility and ultimately, the legacy I want to leave."
Give to the Bishop Bruce and Char Ough Scholarship Endowment for Dakota Wesleyan University here.
Give to the Bishop Bruce and Char Ough Scholarship Endowment for Hamline University.
For questions about your gift to this fund or other UMHEF efforts, please contact UMHEF Development Officer, Cindy Patterson, at 615-649-3970 or cpatterson@umhef.org.
Photos courtesy of Dakotas UMC