UMHEF President & CEO Announces Retirement
November 8, 2023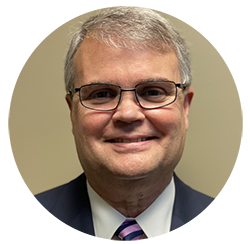 Robert Fletcher will retire as President and CEO of the United Methodist Higher Education Foundation, beginning with a sabbatical leave on June 30, 2024 before officially stepping down by the end of that year. The UMHEF Board of Trustees will soon announce plans for its search for new leadership.
"The Foundation is indebted to Bob Fletcher as an exemplary president and former member of the Board," stated Dr. William Johnston, Board Chair for the UMHEF. "Through his dedicated work the foundation has been transformed and strengthened to assist thousands of United Methodist students attending our worthy institutions. He will be sorely missed, and the Board seeks to find a person with the qualities and the integrity that Bob possesses."
Fletcher joined the board in 1996 and became its president and CEO in 2011. His announcement marks the end of a 13-year tenure during which the foundation experienced significant growth as well as increased and strengthened relations within the United Methodist and higher education communities. Under his leadership, more than $28 million in scholarships has been awarded to nearly 13,200 United Methodist students.
"Bob Fletcher's leadership has benefitted our United Methodist institutions far beyond just the ability to grow the foundation," said Dr. Roger Drake, President of Central Methodist University, one of the 100+ United Methodist-related schools whose students UMHEF supports. He continued, sharing that "Bob is always willing to listen, and more importantly, to make invaluable contributions toward the programs that his organization helps us fund. At Central Methodist University, we are serving populations of students that simply would not have been possible without his support, talent, and dedication."
Fletcher's career spans decades of service to the church. Prior to joining the foundation staff, Fletcher served twenty years as President and CEO of the North Georgia United Methodist Foundation, which later became the Georgia United Methodist Foundation. From 1988 to 1991, he served as Executive Secretary for the General Board of Global Ministries (World Division), where his duties included missionary personnel and programming in the Africa/Europe/Middle East region. Previously, he served in the church pastorate from 1980 to 1988. Fletcher has faithfully represented the UMHEF as an active member of the National Association for United Methodist Foundations, North America Association of Methodist Colleges and Universities, and the International Association of Methodist Schools, Colleges, and Universities.
The grand vision of the United Methodist Higher Education Foundation is to make it financially possible for qualified students to attend United Methodist-related institutions of higher education. Annually, the private non-profit foundation awards $2+ million in scholarships to nearly 1,000 students.
Information on the foundation's search for its next President/CEO will be posted here.